Earlier this year, Allie Pyke at the Gallery for Good contacted me and asked whether I'd be interested in using my photography to benefit a cause close to my heart. It took about two nanoseconds to say yes! Here is some information about Gallery for Good, and about the cause—the Wildlife Conservation Network. The online exhibition starts July 24.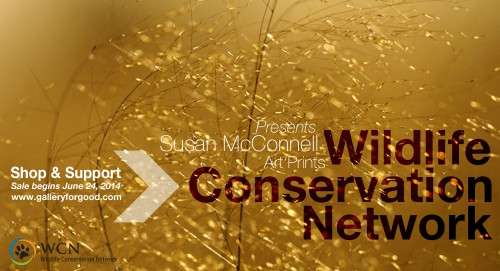 Gallery for Good:
Gallery for Good is a fine art gallery that handpicks art and offers it for sale. Each piece sold directly impacts the planet by supporting a chosen charity focused on causes such as conservation, health, humanitarian relief, education, and wildlife conservation. For each campaign, Gallery for Good partners with a featured charity and artist to raise money and awareness for that charity. Gallery for Good focuses on one charity at a time. We make sure you always know which charities and which artists are featured. Gallery for Good was founded in the Summer of 2012 by a Norwegian artist who joined forces with her husband with one modest goal in mind: to provide a platform for artists and art lovers to impact the world by helping causes they love. Each art piece purchased makes a difference.
Wildlife Conservation Network:
WCN saves wildlife by helping independent conservationists build connections and strong, sustainable organizations. We bring together conservationists with passionate wildlife supporters. Our events, regular updates from the field, and opportunities for field visits get donors close to the conservation they care about. These connections have helped raise more than $30 million for wildlife conservation. Our Conservation Partners are among the best and most passionate wildlife conservationists in the world, and have extraordinary backgrounds in research and conservation. However, their long-term success also requires skills in areas such as strategic planning, marketing and accounting. WCN helps our conservationists and their staff members develop these skills by working closely with WCN staff members and by providing access to expert training in these topics.